Meet
Dr. Joseph Day
East Main Vision Clinic opened in 2007 and has cultivated the special brand of eyecare that has become my signature. I have been practicing as an eye doctor in the Puyallup Valley for over 30 years and I hope to practice another 20! My uncle, Dr. Brand was my inspiration and I was always fascinated by what he did and in his caring spirit. In fact, my mantra is that I'm here to serve the person in front of me, and to the left and the right.
What we do here isn't just about eye care; it's about we care.
Over the years I have become a customer service expert; this is the cornerstone of everything that I do, and the key is the last word: Service. To break down the last word even more, to Serve. I am a leader who truly strives to serve not only my patients, but my team. I have been blessed to be an eye doctor and am so thankful every day for the patients that entrust us with their sight. This is what we all do as a team every day- we preserve sight. Over the course of my career I have grown so much as an eye doctor. 30 years ago, I was providing good care, and providing glasses and contact to pleased patients. But today it is so very much more than that. It is my responsibility to evaluate eye health, and to treat, and educate all of my patients. In our clinic we diagnose eye disease and other problems in over 60% of our patients; the majority of those patients are unaware that they have an underlying problem, until we discuss it, It is critical for all consumers to know that an eye exam is meant to be comprehensive with an eye doctor- anything less is not good care. A refraction or a health screening is by no means a substitute for an eye exam. We always provide comprehensive eye exams here at East Main Vision Clinic.


That is the true value of what we provide here for each and every one of our patients.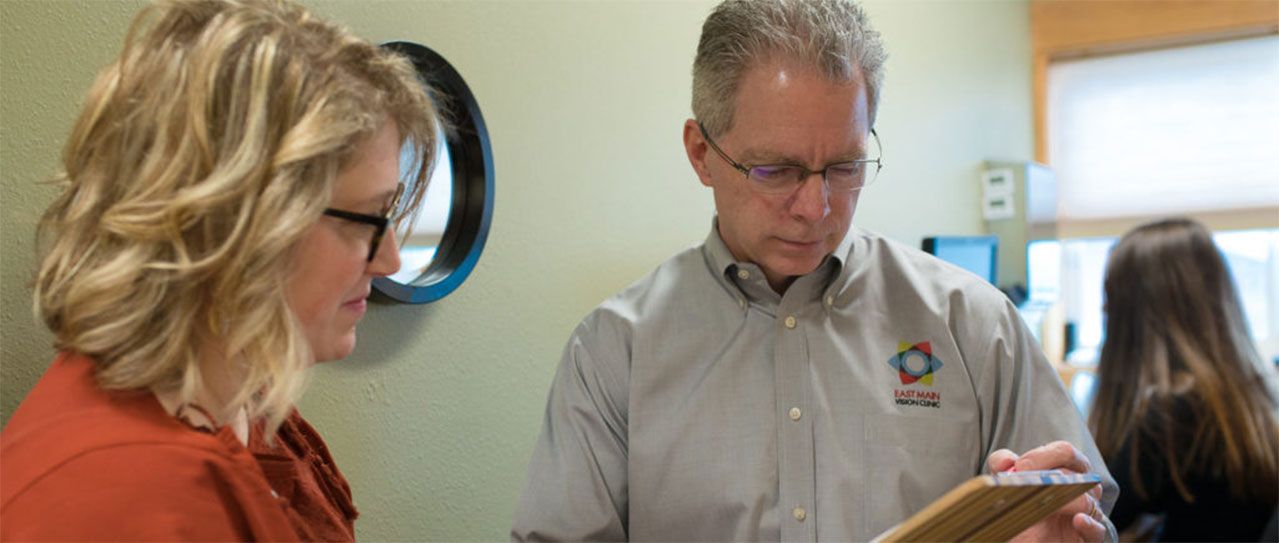 What we do is unlike any other eyecare provider and we pride ourselves in having the whole package of care, which is excellent customer service. I take that responsibility so seriously that if you ever have an eye problem that needs immediate attention, day or night, call me, and our team will work with you to alleviate the problem. That is my promise. I am so passionate about being an eye doctor that I treat every single patient as I would treat my family. I love being an eye doctor; it is so rewarding. That is truly what makes us different. I am here standing side by side with our amazing team ready to serve you!
I have been happily married for over 30 years to my bride Laura, whom has supported me every step of the way! We have 3 beautiful grown children. Ryan is pursuing his career as a firefighter. Drew is married to his lovely wife Hannah, and my daughter Leah is an aesthetician working and living in Seattle with her husband and son who was born in April of 2015. Yes! We are grandparents!
Dr. Day is on Optometric Physician and he graduated from Pacific University's School of Optometry in 1986. He is an optometrist and has served as President of the Washington State Optometric Association. He is one of the leading experts in the country in his areas of specialty, which include Dry Eye Management, Glaucoma, and Specialty Contact Lenses.
East Main Vision Clinic supports its local community through charitable giving and volunteerism. Visit our Community page for more.
In addition, Dr. Day supports his local school districts by giving educational talks to school nurses.
He serves as Treasurer of the Jamie's Heart Foundation, and also donates his and his staff's time and resources to local non-profit Step by Step.